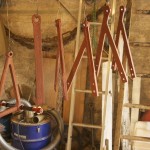 A lot has happened since I was last able to get over to the windmill.
The first sail has been temporarily attached to the stocks so that the backstays can be measured and fitted out. These will have to come off again to be finished off.
The marquee has been repaired with a new cover and the second sail is taking shape.
There's still a lot to do. These backstays all need filling, sanding and painting to be ready to hold the sails.
Meanwhile in the mill, the metal work is being painted and made ready. These bits together with some long rods will open and close the shutters.
These are the fixtures that will hold the sails to the stocks. If you look at the pictures of the first sail, you can see similar fixtures in use.
Work on the second set of stocks is also progressing well, again all the holes have been filled and it's being primed ready for painting.
If you'd like to help out, or learn more, then please do contact us.