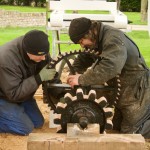 December's working party was hampered ironically enough by too much wind. Our main aim was to lift some of the heavy gear back up to the top of the windmill, but this had to be done on the outside of the mill, we could winch it up inside as it was too big and there were too many obstructions. Unfortunately, storm "Desmond" meant that it was just too windy to do this safely.
Instead, Paul and William spent a large portion of the day getting the cog wheel alignment spot on so that we'll be able align it easily when we assemble it in situ,
There won't be a working party in January, so the next one will be Saturday 6th Feb.
Happy New Year!