National Mills Weekend: 14th and 15th May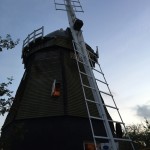 It's National Mills Weekend on 14th and 15th May. Windmills all over the country will be open, for more details see National Mills Weekend. Fulbourn mill will be open on Saturday from 10am onwards. Do come and see round.
We've been trying to find a date when the weather and crane are both benign and available at the same time and that's proven much more difficult than we hoped. However, we're really hoping that Tuesday 17th May will be the day. If all goes according to plan, we'll be disassembling the second set of sails that we've made and then getting them ready for lifting into place on Tuesday. Fingers crossed!