£850 grant towards the new fantail!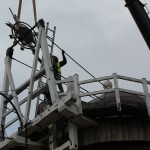 As you can see from the photo taken on the Sail Day, our fantail is in need of quite a bit of tender, loving care and this money will help significantly.
We'd like to say a big thank you to the Mills Section of the Society for the Protection of Ancient Buildings (SPAB). They have awarded us a grant of £850 towards the new fantail.
We welcome all donations so do contact us, if you would like to donate, or come and see us at one of our monthly open days.