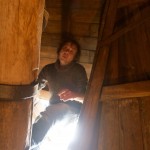 This month we were lucky enough to have three new volunteers: Tony, Richard and Neil. Thanks so much guys for coming along and helping! We all enjoyed being side-tracked by Tony's new guide dog puppy. (If you fancy helping, just let us know.)
Unfortunately, we've suffered a big setback with the fanstage around where the fantail will go. Paul came up during September and found that there's much more rot in the wood than we'd hoped. We'll have to repair as much as we can, but our repairs will only last a few years, so we'll have to get some new wood, let it season for a few years and then replace our running repairs. So, more work now, and more to come in a few years.
Nevertheless we were able to achieve quite a bit. We mounted sail 4 onto the stock–the last sail! We lowered down the rest of the fan gearing, its supporting frame, and the striking gear ironwork. All the ironwork now needs to be brushed down with a wire brush, then primed and painted. William and Paul worked out that the final drive support frame needs to be altered so that the final drive pivot will mesh properly with the rack at the top of the mill's tower. Unfortunately when the support frame was lowered down, we found some more rot, so that will need to be repaired before we lift it back. Good job we found it now!